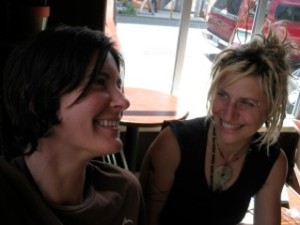 Dreya and Alissa, permaculture designers extraordinaire
My favorite season has a officially begun; the season of eating outdoors whenever possible. This evening we had salmon burgers on our patio's red picnic table, and it felt like our little private paradise. I t's hard to not feel madly in love with my yard this time of year. I spend as much time as physically possible there, and seem to savor the exhaustion at the end of the day. I love watching our kids' rake and dig and play, washing off their mud at the end of the day.


And yet, even though in my estimation our yard is maybe 80% close to being complete, I obsess about the final 20%. After three full years of puttering around with various design ideas, I finally decided that it was time to hire some professional landscape designers. While I'm already fairly educated, having taken a permaculture design course in graduate school, the truth is that I could never seem to develop a wholistic design. I've wanted to clear out several bushes and holly tree, and Hubby always wanted a definitive "plan" before doing so (at our old place I did make a full permaculture plan, so I could never seem to find/make the time, plus there were some problematic areas where I really needed a second/third opinion). More importantly, without this illusive plan, I could never get Hubby's buy off to purchase more than about a $100 of plants at a time. So, when we finally had some extra cash, I new a garden design was at the very top of my wish list.


I searched for permaculture designers, and was excited to find a small company of two women about my age doing landscape design and installation. Seed Garden Design has a philosophy that I aspire to as well, and just from checking out their beautiful before/after photos, I had a strong feeling that I had found the right duo to fulfill my garden dreams. They were truly a pleasure to work with, and they met with Hubby and I to gain a deeper understanding of how we want to use the outdoor space and what we view as beautiful.


Throughout the design process we met three times: first to determine the scope of the design, second to discuss likes/dislikes, and third to reveal the final design. We also had a bit of homework between sessions to help them assess our likes/dislikes better. I ended up deciding to do the full design for our front and back yards, which is a larger lot than most in Portland. The design cost $1550, and I feel it was worth it.


I love having a full vision for my yard/garden. I can finally see its full potential, and can hardly wait to see it come into reality. We most want our yard to be kid-friendly and ready to entertain/enjoy. Plus, we want to produce more and more veggies/fruit from our garden. I also have a dream of having our yard in some type of local garden tour, so we have high hopes for our little paradise.


We plan to pace ourselves though, and it will probably take 4-5 years to implement the full design. I bought $120 of native plants at Audubon's native plant sale this weekend, and it felt so great to have my plant list in hand, knowing each plant had a destined place. I felt like a women on a mission…


Since I'm admittedly more inspired by plants than our finances lately, I'll soon share some specifics of the design…which really rocks, by the way! I've also stared a new "permaculture garden" tag to help you find other related posts in the future.


Does your yard/garden have a plan?
How much is your yard/garden worth investing to you?


~*~*~*~*~*~
Sustainable Family Finances
The story of a family creating an abundant and sustainable life.