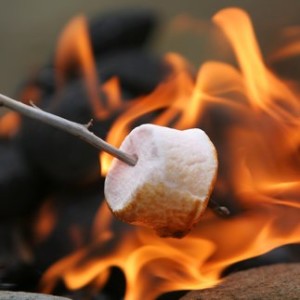 Now that summer is finally here it means camping season for our family. Sleeping under a forest canopy or starlight sky is our way of connecting to nature and each other. Plus, it's inexpensive.


In reality most of our plans began months ago. Here in Oregon most campgrounds are booked months in advance, and I typically set a reminder about nine months ahead to reserve our favorite sites. There are plenty of first-come first-served campgrounds, but I'm just not willing to pack up the family on the chance that we'll get a site. Plus, it gives us something to look forward to…


While scheduling can be tough with busy lives, camping with other families is really the way to go. By joining forces you can share cooking/cleaning/kid watching duties and your kiddos have instant entertainment with friends. But the real reason to camp with other families is the bond you'll share, especially if it becomes a tradition. You simply get to know friends when you're together for a few days rather than a few hours.


Perhaps you're not a camper, and aren't sure where to start. Practice pitching your tent in your own backyard as a test run, your kids will get a kick out of it and you'll feel more confident when you hit the road to the great unknown.


I love backpacking, but we are truly car-bound campers with extra cargo and kiddos. Yet, I still strive for simplicity and don't believe you need to buy a ton of gear to go camping. Here are a few random tips to consider for your next camping trip:
Pack strategically

– create camping bins to store kitchen stuff and gear/games. My Twin Sis just got me Modular Hauler as fantastic b-day gift, they seem really handy.

Pack car strategically

– pillows, toys, books by kids – fleeces/jackets in a bag – shoes under seats….when we road trip we have a "home" for everything, which saves you hassle.

Have special games and books for camping

and create your own ones, like fircone basketball 🙂

Kids love special flashlights

, especially the self-generated wind up ones

Use flagging to demarcate camping area

for younger kids – use "must be able to see you" rule

Tents

–

bigger the better

OR plan to use multiple as kids grow up

Make/prep food in advance

– my favorite is to make cornbread and then bring an easy chili mix – keep it simple with these

camping meal ideas
Give yourself a break if camping is too much with young kids – do it because it's fun, not another "to-do" to make you feel guilty!
What are your favorite camping tips/tricks?
How do you save money while road-tripping?


~*~*~*~*~*~
Sustainable Family Finances
The story of a family creating an abundant and sustainable life.