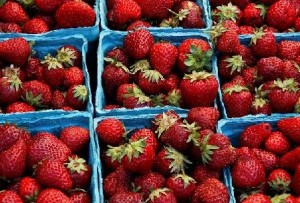 Nothing says summer more than a flat of Oregon strawberries. Add some blueberries on top of some vanilla ice cream, and you've got a simple and fabulous desert!


I've been to the farmer's market twice this week on lunch breaks, and plan to go on Sunday too. I'll pick up a flat of strawberries and making my first-ever batch of strawberry jam! I agree with a fellow blogger from the Greenest Dollar who refuses to be intimidated by canning. Really it's not rocket science, but it is more sustainable and will save you money.


I was definitely aghast to hear that Safeway tried to host a faux farmer's market – minus real local farmers! It's enough to make me want to boycott Safeway, but since it's the only grocery store I can walk to, I don't think driving for last minute items would pay off for the environment or our pocketbook. But since I buy most of my produce through Spud's organic delivery, I already avoid driving and buy almost all organic.


Do you support your local farmer's market?
Do you find good prices and unbeatable freshness?


~*~*~*~*~*~
Sustainable Family Finances
The story of a family creating an abundant and sustainable life.