Happy 2012!!!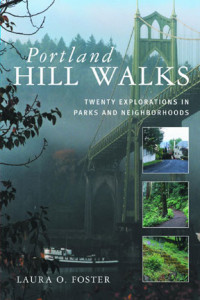 Our new year's celebration was pretty mellow, Bailey's and decaf in bed talking about our family schedule for the east coast new year. A fter having survived the flu, it was wonderful to have beautiful winter weather for a long family walk .


One of our favorite family activities is talking long walks together, self-narrated by Laura Foster's book Portland Hill Walks . She developed a series of walks to guide you to the best vista, learn about the local history, and enjoy previously unexplored areas of Portland. It's taken us a few years, but we've almost completed every walk in the book.


We started doing our hill walks when our Big Guy could fit in a Kelty pack. Now, at almost 6, he can regularly walk 5 fairly hilly miles (with lots of water and snacks). Girly still uses her chariot, our faded and beloved Zooper stroller, which we've put at least a hundred miles on. She'll walk for stretches, but it's honestly still easier to cart all our water bottles, extra layers, dollies…


While getting some fresh air outdoors is our main objective, I've found that it has given us a deeper sense of place. We remember the quirky history Foster has researched and it has certainly gotten us away from doing the same repetitive park trip weekend after weekend. And there are often parks along the way to take a play break. Usually our walks end up taking us 3-4 hours, and sometimes we'll grab a bite to eat at a local place, which Foster often includes in her guide tips too.


I bought Foster's Portland City Walks book for Hubby for Christmas, and I imagine we'll have just as much fun on those adventures…


Have you discovered Laura Foster's walks?
Which one is your favorite?


~*~*~*~*~*~
Sustainable Family Finances
The story of a family creating an abundant and sustainable life.