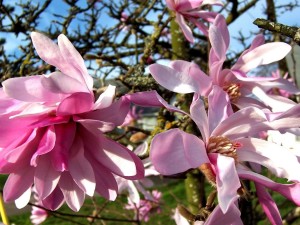 Happy Spring Equinox!


Our kids may not be in elementary school yet, but I've decided that we all need a "spring break." Life has been more stressful than usual, and I just feel the need to unplug.


Thankfully my mom's schedule as a teacher makes a visit to the grandparents an option, and the moment I offered to have our Big Guy visit, she eagerly accepted (Girly is home since Grandma's hip has been hurting her lately, and she's simply at a higher maintenance age). The love is mutual, as he's has been begging lately to visit. They typically get some quintessential country experiences, like collecting eggs and feeding pigs at nearby farms. I think it's also good for us to get a break in the name of family bonding 😉


At the end of the week, we'll meet up with them on the coast for a couple nights. Hopefully this will create the feeling of a vacation without the expense of a true vacation. We'll also continue our tradition of volunteering for SOLV's Great Oregon Beach Clean-up, and our Big Guy has been talking this up lately…yes, he is a little chatter box like his Mama!


I will also be taking time off from the blog this week, so this will be my only post for the week…enjoy your spring break!


What are your spring break plans?


~*~*~*~*~*~
Sustainable Family Finances
The story of a family creating an abundant and sustainable life.