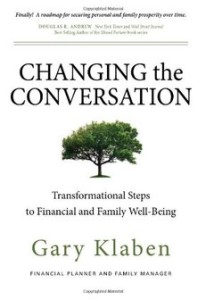 Back to writing after my "spring break"…it was a nice retreat, minus a vomiting and feverish Girly on our mini-vacation to the coast…alas I just hope she's back to energetic self here soon…


I did manage to finish reading Changing the Conversation: Transformational Steps to Financial and Family Well-Being
. Written by financial planner, Gary Klaben, it was a refreshingly easy and enjoyable read. It was packed with personal anecdotes, and was not overly prescriptive about how you should manage your family finances. Actually, it had more professional/personal success advice than I was expecting, but truthfully all success is closely intertwined. A financial planner who can't provide advice on how to earn money to begin with won't be of much help managing any such wealth.


My only criticism of that the book really doesn't dwell on the early years of family financial planner, which is where my family is at the moment. I would have liked some advice on saving for college…or in my case, paying off my college loans. I would have also been interested to know his thoughts on the financial equation of paying for child care or what he thinks about the trend toward maternal breadwinners.


To his credit, Klaben does have one chapter on Financial Awareness where he discusses teaching kids about money, and his own approach to allowances. Personally, I like his approach to allowances. His family had a simple plan, starting at age 6, they gave each child their own age in weekly allowance ($6 for a 6 yo…$12 for a 12 yo.) The only string attached was that every two months the child needed to save $25, which would be matched to put into a mutual fund. He quotes Capitate Your Kids by Dr. John E Whitcomb and discusses how "Basically, a 12 year old is given a $200 monthly budget to buy his or her clothes and other non-essential items. Mom and Dad no longer provide the clothing needs." He does admit that some hand holding is needed early on, but giving children money is the the only way they'll learn from it.


While approachable from virtually all stages of life, I think this book would be most useful for those in their late forties and up to retirement age. Klaben doesn't hide that he's a baby-boomer, and it's clear that this is a retrospective about what he's learned in his life as a financial planner. He has a great deal of wisdom to share with regard to retirement, and I appreciate how he thinks that in order to truly enjoy retirement, you need to find ways to give back to your community (our goal is to do the Peace Corps when we retire!)


I was probably most surprised to find him spending a chapter on "Whose property do you own?" and the notion that we can easily become sucked into the trapping of ownership, especially land.
"I'm reminded of a saying that illustrates the power that property has over us: 'The king fears the man who stands before him with no need.' It is a very profound statement. During feudal time, the serf could have rebelled against the 'indentured servant equals food and shelter' formula. He could have repudiated the system of property rights and refused to become a slave to the system. Arguably he could have lived off the land and put himself out for hire.
When your think about, a feudal system of property rights still exists today. The difference: The king has been replaced by consumerism. We can do without three TVs, three-car garages, three personal phones, and on and on. We choose to "own" these extras because it makes life easier and more enjoyable.
Money can't buy happiness, but is makes the journey more comfortable. So, are you controlling the money or is the money controlling you?"
This quote gives a good example of how Klaben suggests "Changing the Conversation" is some transformational ways.


Lastly, I found it very intriguing to read this book right on the heels of the Energy of Money, because he opens the book by talking about how our relationship with money is a very personal journey, and he devotes a chapter to financial psychology.


Have you read Changing the Conversation?
I'd love to hear your thoughts on it.


~*~*~*~*~*~
Sustainable Family Finances
The story of a family creating an abundant and sustainable life.