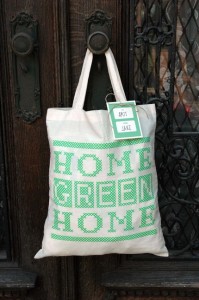 A co-worker and friend is having a housing warming party, which gets me thinking about green gifts.
House plants

– Is there a better way to bring a little bit of nature inside than house plants? I love house plants and they are one of my favorite gifts to give (and receive). Many are very easy to propagate, and I often will snap off a piece (or my kids do it for me) and put in a vase until it roots. Yet, I also realize that not everyone is has a green thumb, so I try to only give ones that are easy to grow. Here some more favorites: prayer plant, Christmas cactus, philodendron, spider plant, wandering jew, asparagus ferns and jade plant (a symbol of prosperity). Aloe is perfect for kitchens in case of burns. House plants shared by friends can also become like family, my Mom has an angel-wing begonia from a friend since before I was born, and I have a plant from the same cutting.
Candles – Nothing warms a room like candles, but you want to make sure you give (and use) "green" ones. Many candles are petroleum based and some are made with a thin wire of lead in the wick (to help with dripping) obviously not good for your own environment.

Pacifica

is my favorite candle-maker (and soap, lotion…)

Herbs – It's very cost-effective to grow your own

herbs for your pantry

. Yet, you'll find that come harvest time there's almost always a surplus. Everyone could stand to refresh their herbs (I know I'm in need!), and moving is a great time to do it.

Seeds – After the blossoms fade it's easy to collect seeds from your favorite flowers (or even in a friend's yard), and they make perfect gifts.
Sharing things like seeds and herbs can be a great way to earn some social capital. Enjoy sharing the wealth!
What gifts do you give for a house warming?
Do you bring hostess gifts?


~*~*~*~*~*~
Sustainable Family Finances
The story of a family creating an abundant and sustainable life.