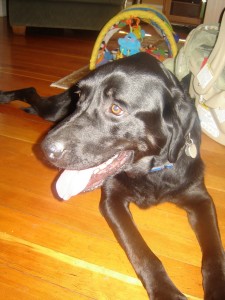 Many families wonder, what would it cost to own a dog? Well, since last summer we've been finding out for ourselves.


Last July we adopted our loving Doggy, a very large purebred black labrador who needed a family who would give him lots of exercise and lovin'. Our decision was somewhat on a whim, so we were pretty naive about it all and I hadn't given much thought to how much he would add to our monthly budget. Thankfully he hasn't broken the bank yet, but here's the rundown on things you might want to think about as a new dog owner.


Adoption: Adoption is definitely the most cost-effective option. Unfortunately, due to the recession there are still many pets who have been given up and need a new home. The good news is that there are a lot of terrific pets available, and you'll save a lot. Our Doggy was almost 5 when we got him, and had complete vet records which clearly showed that even a healthy puppy can be pretty expensive. We saved ourselves a lot of initial costs, and didn't even end up paying a shelter fee because we adopted through a co-worker.


Supplies: While you have to really assess needs versus wants, there are still several supplies that come with dog owner territory: tags, leash, bowl, bed, brush, soap, chuck it, Frisbee and a Kong. You'll also need several ongoing things: dog food, treats, dental bones and peanut butter for the Kong. We checked out books from the library, and researched online. Our start-up costs were almost $200, and our ongoing expenses average $40-50 per month.


Boarding: We've really lucked out on boarding, since I have a dog loving co-worker who has generously taken care of our Doggy on several occasions (we had several weekend trips planned before we adopted). I did spend $50 on a yoga gift certificate over the holidays as a token of our appreciation. If we hadn't had such social capital handy, we would have to pay $35 per night.


Vehicle: Truthfully, it first really crossed my mind as we driving to meet our beloved Doggy that we might need to purchase a larger vehicle as a result of our new family member. This is especially true because of our love for camping, which as a family of four means a car packed to the rooftop. We are both a bit reluctant to buy a minivan, but our Doggy may push the issue earlier than we had hoped. We are going to try out a large rooftop carrier first…we'll let you know the verdict after a cabin trip planned for May.


There are plenty of extensive resources on the costs of dog ownership if you want to consider it further.


Lastly, the decision to own a dog is not all about the expense though, and there are may "payoffs" that can't be accounted for. We love going on walks as a family with our Doggy and playing fetch in the backyard. He provides free daily exercise and a mental break, as Hubby wakes up at 5:30 to walk him (part of the reason this blog is always set to post at 5:30). The first Girly giggles and BigGuy lessons are priceless. Plus, he's now family.


Does your family have a dog, what expenses have surprised you?


~*~*~*~*~*~
Sustainable Family Finances
The story of a family creating an abundant and sustainable life.