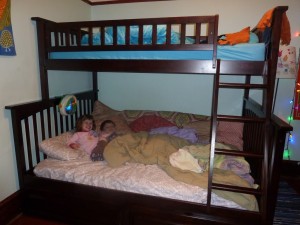 January always feels like a very long month in our home, particularly this year. It's partly because I'm always gearing up for the year ahead and setting our goals in motion. It's also because we are still celebrating…we have 3 birthdays in January (Hubby turned 42, Girly turned 3, and our Big Guy turns 6 today!). Our goals and celebrations seem to have merged very fluidly lately with us working together to further our "simplicity parenting" process.


Even though I hadn't yet read Simplicity Parenting last year, I spent a post writing about how simple I tried to be in birthday gift giving (previously about our family gift policy). In hindsight, I realize that I didn't even need to purchase as much as we did…the flashcard puzzles were barely touched, and I haven't seen the soccer ball in almost a year.


This year we took it down another notch, and gave the kids a bunk bed. It wasn't itself a cheap gift, but it did turn out to force us to really refocus on simplifying their bedrooms. Our Big Guy had asked for bunk beds since I was pregnant with Girly, but during Thanksgiving he got booted into his little sister's room for our family guests…but then he didn't want to go back to sleeping in his own room. They continued to room together so well that we soon agreed that if they could keep it up until their birthdays, we would buy them bunk beds.


Now Girly's old bedroom only has a toy tower, bookcase, and dress up chest (we plan to set it up as a guest room soon…). The new shared "kids' room" has their dressers, lamp, kids' CD player, alarm clock and a closet with games in it.


Admittedly, even after two weekends of gutting their rooms (and another putting together the bunk-beds), I know that I still have work left going through the toys in the tower…most of which they haven't played with in months! I purged many of our board books, but I still need to take another look to cull more unread books…it is emotional to let go of those original baby books, and I plan to hold on to a few…


Our kids really didn't balk at getting rid of anything, there were naturally a few items they became temporarily enamored with again, but I just let them play until they were done and then scooped it into the give-away.


The kids were thrilled when we finished assembling the bunk beds. It kind of feels like a new era for our family, and we're all happy to have simplified living space.


Otherwise, the only gifts we gave this year were a few really beautifully illustrated Irish/Faery tales to replace the classic board books. They got some needed sneakers/cleats. They also got a world/U.S. map to decorate their new room. Plus, Girly got to pick out sheets for her new bed.


Have you simplified your child's space?
Do your kids bunk together?


~*~*~*~*~*~
Sustainable Family Finances
The story of a family creating an abundant and sustainable life.