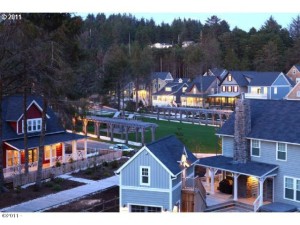 I haven't written much this year, and I have two goods reason. We've been working swiftly toward our dream of owning a beach rental …we're actually building two camp cabins at Olivia Beach! So, we've been really busy setting up deal, and I didn't want to jinx us by writing anything before a contract was signed and our 10% down.


But before I get into the recent details, I'd like to share the back story of how this became our dream…


Not long after Hubby and I met, he shared his dream of wanting to own a beach house by age 50. It sounded like a great dream, but I was skeptical that we'd be able to pull it off in that time frame. He was still in graduate school, without a solid career, and I was piling up college loans. Regardless, I happily agreed to the goal, and have been secretly dreaming of our beach house ever since.


Early on Hubby also shared with me his passion for New Urbanism, and the concept of designing communities around people, not cars, really appealed to me. I was pretty sure that I could never see myself living in suburbia, but a New Urbanism community would be a different story altogether.


Then, a few years ago, Hubby heard about some New Urbanism communities being developed on the Oregon and Washington coast. We visited Bella Beach and Olivia Beach when they were breaking ground, even though we weren't actually anticipating ever being able to purchase…we were secretly a little jealous.


So, when we received our family inheritance, I couldn't help but think back to our deepest seeded dream of owning a beach house. I also knew that we still couldn't afford it on our own, so I proposed to my Twin Sis and our Aunt that we go in on a venture together. After visiting Olivia Beach, and weighing between buying a single house or two small cabins, we eventually settled on the "camp cabins." It turned out that our timing couldn't have been better, and they had just proposed the option of building small 1 bedroom/1 loft cottages.


There were lots of factors that swayed us toward the cabin option (even though two was a bigger investment than a single 2 bedroom house), and one of the reasons is that there are only planned to be four cabins. Therefore, our cabins will be the most affordable rentals in the whole development. Plus, we really like the "small is beautiful" aesthetic.


We just met with the builder/realtor team this morning, and I'm still pinching myself that we'll soon be picking out paint colors and will likely be able to stay there for our 10th anniversary this August. Setting up the business, furnishing the places, and marketing them is going to take a lot of my time in the coming months, but I do hope to write more this spring (we've also been working on a permaculture garden design!)


What's your deepest dream?


~*~*~*~*~*~
Sustainable Family Finances
The story of a family creating an abundant and sustainable life.