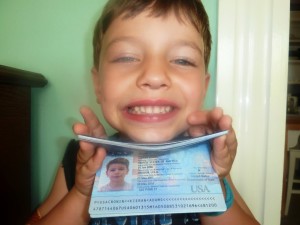 Today we are flying off on our big family adventure to Denmark!! I'll have infrequent access to email while we are there, but I'll make sure to take lots of photos and I'll be back to blogging regularly in September. Enjoy the rest of your summer!


I knew that buying passports for a family was going to be more expensive than when I only had to pay for myself. But it was still spendier than I anticipated…I expected $400 tops, but here's the break down:


Adult passport renewal = $120
Adult passport replacement = $120, plus a $25 execution fee
Children's passport = $80 plus a $25 execution fee per child
Passport photos = $10 per person


Total passport fees for 4 = $515


Check the government site for current fees


Passports are really priceless though. On an inspiration note, my travel-hearted friend Kim wrote a inspiring blog post about the Power of a Passport. A passport is really your ticket to exploring this beautiful blue ball called planet Earth. Our Big Guy may only be 5, but he was the first to get his passport in the mail, and he looked at it in awe for the longest time. While the photo here is pretty goofy, in his passport pic he was very serious, seeming to know that this photo would forever immortalize him as a traveler. And it's crazy how Girly has already lost much of her baby face in the past six months since we first took our photos. It inspires me to dream of where we may travel together as they grow…


Practical tips:
Unless you are very near your travel date, it's advised to never pay for the expedited passport services, since typically they are finished in about 3 weeks (rather than the 6 weeks they promise). So unless your trip is just a month away, don't bother, but better yet send everything off a few months in advance to save yourself the stress.


Keep in mind that kids that you need to have both parents and the child present in order to submit the application. The passport office in Portland has limited hours (City Hall mid-day on limited days, FYI), so the first time we went without Girly, figuring that nap through her first passport application. But we had to return the next week instead.


Also, our other lesson was that it turned out that Hubby had to get a passport replacement, which added a $25 fee. It turned out that he hadn't seen his passport since our trip to Canada two years ago (very likely in our basement somewhere…). Thankfully he found his previous passport, so the application process wasn't a complete hassle. Plus, his was set to expire anyway so the $110 fee didn't hurt quite as much. We definitely plan on having a home for all our passports when we return so that we'll never have to be in search of them.


OK, so I also have to fess up and say there was one more lesson…I filled out my first application in pencil… I figured that I didn't want to mess it up! A big no-no, so it got delayed by about a month. So, I was really glad that I sent it in 2 1/2 months before our departure…but still a few weeks ago I was starting to get a little worried!


Now I'm content with photocopies of all four in hand, plus some Danish Kroner!


Is your family ready to travel abroad?
Is travel a priority/value of yours?


~*~*~*~*~*~
Sustainable Family Finances
The story of a family creating an abundant and sustainable life.