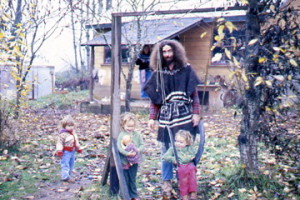 In what I think will be my last specific post related to my father's passing, I feel the need to share my reflection on dealing with all his worldly stuff.


On top of the intense state of grief that comes with the passing of a close loved one, you have to deal with all their stuff…which really doesn't help matters. I feel kind of lucky that my Twin Sis and I each grieved for a few days before we got to his house to start the task of sorting through everything.


While on the surface my father wasn't a pack rat, he still had more possessions than I realized…probably average for any American living in one house for 25 years. His stuff did reflect what he loved, mostly lots of books, music, guitars, and outdoor sports gear. Plus, in the last year of his life he had started to collect furniture, lots of nice secondhand pieces. When we first took a look around to evaluate the task ahead of us, we were understandably overwhelmed. It looked like it could have easily taken a month or a year to go through it all…and we had a week max.


We were honestly very systematic and somewhat detached about it all, simply because we had to be to get the job done. We only stopped to get sentimental over a box of old slides taken when we were 3 years playing in a front yard of fallen leaves (see photo: yes the fro is real!). But after the first night of sorting and packing past midnight, we looked at each other instinctively with the same thought "It's only stuff!"


Amazingly we plowed through it all (with the help of close friends and family), and in two days time we had everything from the upstairs emptied and ready to sort through to give away to his closest friends. We donated all his clothes to Sponsors and the last of the furniture to St. Vincent De Paul. In less than six days, his place was entirely empty.


This was a big life lesson in many ways, and here are a few tips to consider in your relation to stuff and the hear-after:
Be generous now – share what you have with those close to you before you go…it will make it easier for everyone and you may even enjoy it 😉
Let It Go – I hear it all the time from my favorite minimalist blogs, but if something isn't beautiful or useful to you right now, let it go. I know it's easier said than done, but simplifying your life, especially in retirement, will bring you a great sense of ease and will truly help your loved ones deal with your passing better.

Give directions – If you have valuable items you want to hold on to, do your best to be explicit about what you would like to go to whom (in that will you're finishing up!). Thankfully, we didn't squabble over anything, but my sister's in-laws have had some bad blood for years based on feeling slighted after the passing of an Aunt who wasn't clear about who she wanted her belongings. I don't think anyone wants feuding, but it happens.
In our case, the task of going through everything was part of the healing process and it was weirdly a bonding experience for those closest to our father. But I feel lucky that we managed to accomplish it all so swiftly, with generosity, and with love. Everyone close to him got something, and many felt like righteous gifts that would continue as subtle reminders in daily life of his presence.


In total, we each gathered approximately one box worth of stuff, a combination of sentimental and practical items (my steamer basket had been busted for months!). I got some items for the kids, a Lincoln Log set, wooden baseball bat, and Wally's most well-played guitar. A jar of marbles we played with as kids and a vintage bottle fish now sits in our entry way window, as it did his. Wally had also recently bought me an antique roll-top desk and a tandem bicycle, and I will inherit his 19-foot wooden Lightning sail boat…which I will need to lovingly restore! It's not that I'm ungrateful for these new-found possessions, but I have an even deeper appreciation for them…knowing it's just stuff in the end.


What stuff really matters to you?


~*~*~*~*~*~
Sustainable Family Finances
The story of a family creating an abundant and sustainable life.