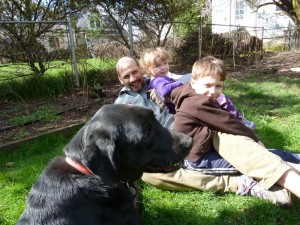 My mind has been consumed this week with facing decisions about our family dog, Kiki. When Girly and I took him on a walk Saturday morning, he started limping after the second throw of the fetch-it. While he didn't yelp, it sure seemed serious and I knew we'd have to take him to the vet (especially when his appetite was nill…which I've never seen).


We got an early Monday appointment, and my BigGuy accompanied us. After an initial exam, Dr. Rachel (from Irvington Vet Clinic) suspected that his knee was torn, as she could feel looseness. I left him for full x-rays, and started to prepare myself for the prospect of shelling out a LOT of money for a knee repair surgery, roughly $4-5k. I know after two years of dog ownership that pets cost, but that's a big chunk of cash.


When we got the results back I started to have second thoughts about surgery. It turns out that he actually has looseness in both knees, plus arthritis in both knees and hips. Add on the fact that he is a HUGE purebred Labrador weighing in at 107 pounds (he is literally the biggest lab I have ever seen, and people tell us the same all the time). Then there's the factor that he's turning 8 this fall and the average life expectancy for his breed is 10-12 years.


Sadly, when we adopted him 2 summers ago the original owner had actually given him up because she was obese and her vet told her that if she didn't get him regular exercise that he wouldn't life a full healthy life. We had hoped to give him the active lifestyle he deserves.


I worry that if we sucked it and did the surgery that he would continue to compensate through his opposite knee or hips. And wouldn't have a full recovery due to the arthritis.


It's a damned if you do, damned it you don't prospect.


Yet the prospect of just letting him atrophy and live in pain kills me too. I would at least treat him with medications and acupuncture, but it would bring him back to his previous bounding self. In the end, it would likely shorten his life.


It's also a slightly more personal dilemma, but I've had one arthroscopic and 2 full ACL surgeries on my knee. I couldn't imagine not being given the chance at recovery. Yet, I also know the warning from my orthopedic surgeon…"you've got max of one knee replacement, so I don't want to see you for a very long time…" Sadly, I've been likening Kiki's predicament with whether I would want a grandparent to operate or not, and how much of a quality of life it would actually give him.


No doubt, it's a tough choice. I'm not entirely set, but I am obviously leaning, and I need some perspective on this tough decision…


What would do for your pet?
Is surgery the best choice?


~*~*~*~*~*~
Sustainable Family Finances
The story of a family creating an abundant and sustainable life.