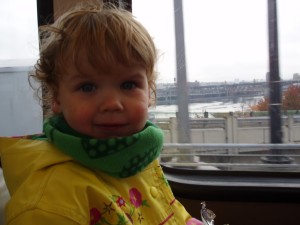 I always focus on the environmental and economic benefits when I've talked about our avid bus riding family, and it is true that we save a lot of money this way. But I haven't mentioned the many learning/social perks we experience on our daily bus/MAX adventures.


I used to call people I met on transit my "bus/train friends", but with a family I've taken to calling them our "bus community." As any parent knows, kids are great icebreakers. People are always ready to strike up a conversation if you have a child in tow. When our Big Guy was a baby, I called the women who would coo over him his harem. Now Girly has her own group of friends she loves to wave and say hello to…the high school boys really love the attention 😉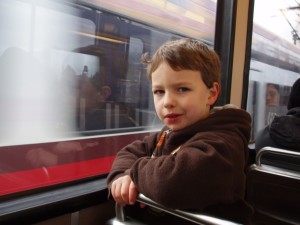 No matter which bus we catch, we almost always cross paths with someone we "know". Last week I met several regulars who we hadn't seen in a while who mentioned how big the kids are getting. If I get on the bus without one of the kids people will ask if someone sick, and I've even been approached while waiting by myself with people asking where the kids are!


But beyond the social aspects, there are lots of other lessons.


Bussing teaches kids geography – our kids know our neighborhood and city from riding transit. They don't go from one curb to another in a bubble, but know the street names that the bus drivers call out. He showed his Auntie the whole way to his school on the and led her to the post office too!
Taking transit helps kids experience the environment – kids love seeing the world anew each day, and ours just love crossing the river each sunrise and sunset. Girly waves emphatically as she calls out "wa wa". They also get to experience all the weather of the seasons…we love dry weeks like this one!



Exercise – we all get a little exercise from riding the bus. We only have a 2-3 block walk, but from small kids and parents with lots to tote, this is enough to feel like a trek. Plus, you'll often see me running with Girly on my hip to catch the next bus…she giggles hysterically every time too 🙂

You may think it's a stretch, but taking transit can teach early reading and math skills. Big Guy knows all the bus names and numbers, loves reading the countdown until the comes…"only four minutes Mommy!!" I have no doubt that as his time telling skills get better, he'll be figuring out what time need to catch the bus on time – talk about real life problem solving.



There are occasions of unsavory urban activities on the bus, but I've never felt unsafe. In fact, the closest was when a belligerent woman was having a hard time staying in her seat and other rider quickly came to aide to make sure she didn't come any closer. And earlier this winter the front porch of an abandoned house at our bus stop temporarily became a defacto shelter, but it was really just another teachable moment. I love the fact that they see people from all cultures and socio-economic classes, they are all part of our community.


While we haven't gone car free, I really appreciated this article about how transit is good for kids . I knew that I was making the right choice when we happened to be in stuck in a car in traffic, and our Big Guy spotted some buses and shouted "Mommy there would be a lot more cars with those buses! They take away all the pollution!" That's an important lesson at any age.


Now you may be thinking, sure bussing is fun for kids, but how does Mom/Dad manage it? My mantra is snacks – must have lots of snacks, plus water, and a cloth handkerchief. Sometimes we bring books or toys, but typically we just talk, sing songs, and enjoy each other's company. I'll take cuddling with my kids any day over driving downtown!


Riding the bus is a priceless routine for our family.


Lastly, here's another perspective from my favorite transit mom blogger called "The sane person's guide to bringing kids on public transit."


Do you ride the bus with your kids?


~*~*~*~*~*~
Sustainable Family Finances
The story of a family creating an abundant and sustainable life.