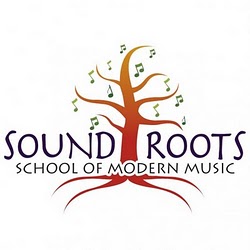 Our once little guy, Kieran Adams turns 5 today!
Happy Birthday Big Guy!!


We celebrated the kids' birthdays at Sounds Roots, but before I share more about the celebration, there's a bit of a back story.


It happens that five kids have birthdays within two weeks of each other in his class. I should have known it, but it turned out that three parties were planned for the same day! After considering my options, I ended up calling one of the other mothers to see if she was open to joining forces for a combined party. Thankfully, she said that she had thought about asking earlier, and they were happy to celebrate together.


We shared expenses and hosting duties. I brought snacks (pirate booties, Barbara's cheese puffs, pretzels, raisins and yogurt covered raisins). I also brought our supply of reusable plates, cups, and silverware. The extra bonus was that she is way better at cupcakes than I am, and the kids loved the chocolate on chocolate with sprinkles! She also brought coffee for the adults, which was much appreciated.


But it was the music that was the highlight for everyone!


We had Mo Phillips, and he's just the guy you want for a rockin' party. He really does a great job of getting to know his audience, and engaging the kids in whatever they are into. He takes all the crazy kid energy and turns it into music. They have lots of tambourines, shakers, and hand drums for the kids to play themselves too. He sets up a couple of microphones for the kids to sing along with, and our Big Guy belted out "The Yellow Submarine" a couple of times. Then, after getting them buzzed on sugar, they opened up their adjacent blue room. There the kids could jam on electric guitars, keyboards and a big drum set. Fair warning – it can get pretty loud, but the cacophony is worth seeing them all live out their young rock star dreams!


Quick low down on the cost – $150 for 2 hour rental, after 8 kids each extra is $13.


Like last year, we did a book exchange – which is a great way to avoid the chaos and clutter of presents. If you're in b-day party research, I wrote more about celebrating a "green" birthday last year.


Next year I hope to make some reusable party napkins too!


How do you celebrate your kid's birthday?
How much do you spend?


~*~*~*~*~*~
Sustainable Family Finances
The story of a family creating an abundant and sustainable life.