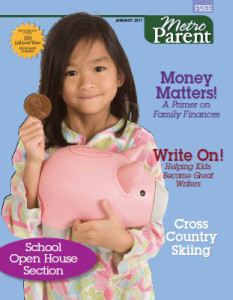 I was already geared up for a great new year, but I was so thrilled to see my first blog-related article in Metro Parent January 2011 – Money Matters – A Primer on Family Finances by Julia Silverman.


A big kudos to my friend Courtney for suggesting that Julia interview me (and for being a loyal blog reader!) Even though blogging has some instant gratification, it's different to see your words in print.


I also enjoyed reading about the personal finance perspective of other moms, since talking about our finances is often taboo in mom circles. The financial advisor had some great advice too. While I've heard about breaking your budget into fixed and unfixed expenses, I like how she suggests analyzing and separating your nondiscretionary fixed, nondiscretionary unfixed, discretionary fixed and discretionary unfixed expenses. I think this little exercise would help me gain some more perspective, and perhaps some insights…I'll let you know.


I naturally suggest that you pick up your own copy or read it online, but here's a sneak peak of my favorite quote:
"Just start where you are and don't waste time feeling guilty or wishing you were further down the path to sustainable abundance," Cronin says. "Begin by making goals that motivate you, then take small actions each week."
The article is indeed a great primer on family finances , and the magazine includes a few other great articles that I'll write more about later this month…


Thanks again to Metro Parent, Julia and Courtney!


~*~*~*~*~*~
Sustainable Family Finances
The story of a family creating an abundant and sustainable life.