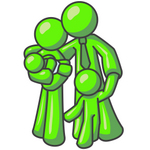 Over the past long weekend we made fun family outings a priority. I'll give a recap below, but first let me share some of my favorite places to find cheap local family activities:
We started off the weekend by taking the train to the Children's Museum, with half price admission as a reward for Big Guy's summer reading program. Later we enjoyed an evening with friends who we've been rotating dinner play-dates for the past few years. We have a tradition of bringing the host a bottle of wine in the same cloth bag time after time, and it's always a casual experience. Dinner play-dates are the simplest way to enjoy the social element of a restaurant in the comfort of friends, without paying for dinner x4.
The next day we had a nice morning outing to REI (I'll share more tomorrow), where I used my co-op dividend on some much needed rain pants and new bicycle lights. Hubby got a new pair of Columbia pants which are like his weekend uniform. I looked around for potential holiday presents for the kiddos, but stuck with our list. Keeping to a shopping list is perhaps our most effective was to save money.
Saturday began with our usual walk to the community pool for swim lessons. Then Girly and I headed to a friend's baby shower (more on that topic later in the week too.) The "Boys" hung out watching football all afternoon, and then we all went out to watch the Ducks stay undefeated. Our dinner wasn't necessarily expensive, but it always amazes me how much appetizers and beer can add to your tab. It was worth it though.
Our last adventure of the weekend was another tradition of sorts, going to check out the
model railroad show
that only opens in our neighborhood in November. The members are true train enthusiasts and this year Girly was thrilled to see the miniature cho-chos.
This was an extra long weekend, but it's easy to see how much fun family outings can be without costing much.
What family outings do you love to share?


~*~*~*~*~*~
Sustainable Family Finances
The story of a family creating an abundant and sustainable life.