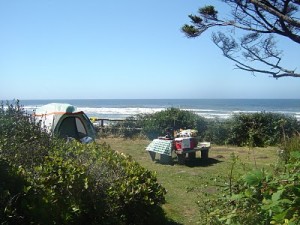 I think the outdoors is in my blood, maybe it's because my grandfather started kayaking in his 70's and my other grandfather spent his weekends photographing Yosemite . I worked at the Outdoor Program through college, and spent virtually all my spare money buying outdoor gear and traveling. When Hubby and I met, we were a match made for the outdoors.


With kids and a family budget to stick to, it means that REI trips are rare. The high end brands are still too rich for my blood, but the quality of the REI brand itself is really unbeatable. Both of my rain jacket (one light weight, one for cold weather) are a few years old and in perfect shape.
It's the only true corporate scale co-operative.

I love getting an annual dividend of 10%.

REI-outlet is a great place to shop online sales.

Buy the "generic" REI brand and you'll be happy you did.

If you're not, they have the best return policy on the planet – no questions asked.

Shop semi-annual Garage Sales of slightly used returns and you'll really score.

Shop out of season, stocking up for the next sport year if it's a must-have.

Like anywhere, go with a shopping list and steer clear of temptation…which is plentiful at an indoor playground like REI.
Now that we have a family of campers, our gear are more practical than adventuresome. We also try to only purchase what we need, which is why we didn't visit REI the entire camping season. We went this past weekend to pick up some rain pants and brighter lights for rainy weather bicycling.


I'm also an REI fan, because they are way ahead of the green business curve in designing eco-sensitive products. Remember, green is the new black.


Check out this interview on Corporate Responsibility at REI


Are you a co-op member of REI?


~*~*~*~*~*~
Sustainable Family Finances
The story of a family creating an abundant and sustainable life.