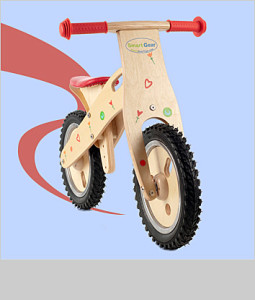 OK, so I may not be a Black Friday shopper, but the lure of so-called Cyber Monday caught me. Recently I signed up for Zulily for "Daily Deals for Moms, Babies and Kids." I was curious about what kind of deals they have, and the only way to find out it to sign up to Zulily .


We had already decided that our gift for Big Guy should be tag along bike, since he has clearly outgrown his $10 second hand bike but isn't ready to ride long urban trips yet. Plus he loves bike commuting, but takes up 2/3 of the space and is a 56 pound lead weight.


But I hadn't figured out what could be equally appealing for our Girly. So, when Zulily had a 40% off sale on Smart Gear toddler bikes for $50, I couldn't help but get one. She loves the walking tricycles at her school and over the weekend had a blast trying out a borrowed tricycle. The problem is that her hand-me-down trike of Big Guy's ready never worked that great…either too small for it or suddenly too big! Plus, on our last trip to REI, we had to coerce her off the display bike! Plus, I'm pretty sure that once Big Guy is on the ridealong we'll be able to fit the push bike in the trailer for some special trips and she can ride on safer paths and parks once she's ready.


Zulily has lots of other eco-oriented toys on sale right now:
Green Toys – trucks, teacups, planting sets and more…(on the kids' wish list!)

Wooden and cloth toys by Wonderworld, include a mini-ecocar

Le Toy Van wooden creative play toys

SIGG stainless water bottles for kids
The deal with Zulily is that products are on sale for only 72 hours (usually 30-60% of retail), so you have to buy when the sale strikes.
Are you signed up for Zulily?


~*~*~*~*~*~
Sustainable Family Finances
The story of a family creating an abundant and sustainable life.