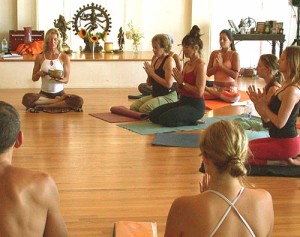 I've always been a bit of a hermit when it comes to practicing yoga. I took two college Hatha Yoga courses to begin to understand the philosophy and approach to whole body health. Yet, my goal was always to practice in the privacy and comfort of my own home.


My strategy was two fold. I was a poor college student, and wanted to get the most personal benefit from all my student loans. I also felt like I would stand a better chance of creating a life-long practice if I didn't have to leave my home and rely on teachers for instruction. Somehow I also channeled my future busy-mom lifestyle, and knew that yoga would become wellness touchstone.


I haven't gone entirely on my own though, since I mostly practice with audio/video instructors. My all time favorite CD is Shiva Rea's Yoga Sanctuary. In just a 30-40 minute routine, and I feel toned and fit. I've also picked up a few GAIAM DVDs to switch things up from time to time, and I have great yoga deck that I picked up at a neighborhood yard sale. I used another prenatal deck that has some very affirming meditations, and Shiva Rea's prenatal DVD during my pregnancies . I've probably spent about $100 over the past decade.


I think my strategy has paid off, because I was astounded by a quick calculation: I've saved about $12,000 in the past ten years! ($5 per class 4 times a week) I've also saved on yoga attire, and can hardly believe the price of yoga attire. I'm kind of in disbelief that yoga outfits now cost over $100…I'm still using my college pajamas!


Despite the substantial savings, I certainly think that classes would be fun and may some day prefer to practice socially in a group. There's a new Lotus Seed yoga center in my neighborhood that I would like to check out, but for now doing yoga at 5:30 while Hubby walks the dog works best for me.


Do you practice yoga?
Do you prefer classes?


~*~*~*~*~*~
Sustainable Family Finances
The story of a family creating an abundant and sustainable life.