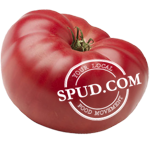 As I've mentioned before, Spud has become part of my weekend ritual. I enjoy it so much more than packing two kids in the car and blowing at least twice as much at our local Whole Paycheck. We literally can buy all of our produce, plus milk and eggs for $33 to get free week delivery. The best part is that you can quickly set preferences and weekly/monthly orders.


Yet, I'm surprised at how many people I've surprised by how many people I've chatted with who haven't heard of Spud. So I'm compelled share more about them. They also have a new online video giving a demo of how easy it is to order, see below. I would add a few more tips though to help make the most of your order:
Create a "Standing Order," which will allow you to order things like butter monthly, eggs bi-weekly, and milk weekly. It means you never forget the essentials!

The bonus of a standing order is that they'll give you a 5% discount on lots of items.

Create personal shopping lists for different needs – I have lists for my pantry, dinners, and everyday foods. It's super easy to edit and order.

Always remember to update your order by 9 AM the day before delivery, or two days for fresh breads and meat orders.

Again, always remember the Submit Order button.
If you want to play around a while, there's more fun too:
Check out the kid-friendly meals under the recipes tab.

Keep track of your food's carbon footprint.

Follow Spud by Facebook/Twitter for more fun stuff.
If you want to give Spud a try and get $25 free after your first 4 deliveries, use my promo code: CR5-147718.





Tell me about your Spud experience!


~*~*~*~*~*~
Sustainable Family Finances
The story of a family creating an abundant and sustainable life.