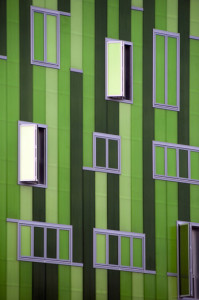 We're not in the market for housing, and are just doing our best to keep our 1904 Victorian sustainable in this century. B ut I want to plug the upcoming Build It Green Home Tour here in Portland, even if you just check out the info virtual there is plenty of inspiration. I'll be there, will report back on any new insights.


While I'm on the topic, what do you think of modular housing and the "house of the future"? Could you see your family thriving in a modern home?


Personally I really like the idea of flexibility over time, but I'm not sure how they would look plunked in the middle of existing neighborhoods. Perhaps the solution for the suburb of the future, but I thought the suburbs and malls were on their way out.


On a related note, we just got our first power bill since our new green refrigerator and I'm looking forward to sharing more once we have a few to compare, there is a slight savings!


Would you pay more for an energy/water efficient house?
Would you live in a green modular?


~*~*~*~*~*~
Sustainable Family Finances
The story of a family creating an abundant and sustainable life.