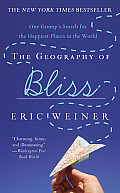 I bought the The Geography of Bliss at Powell's for my nomadic Twin Sis, conveniently for our birthday. She was kind enough to pass it along to me, and I finally finished reading it this past weekend.


The author, NPR correspondent Eric Weiner, has a humorous writing style even though it's research-based non-fiction. Plus, happiness research isn't exactly the toughest subject to delve into.


Without going into a full review, I would highly recommend the book. He writes about the American trend away from happiness, despite our amassed wealth and stuff. While money is important to have a decent standard of living, research shows that money itself does not make a country or oneself happy.


Without giving away the punchline, it's no surprise that trust, gratitude and social connections are the genuine bliss breeders. Here's a brief video where Weiner describes landing in Iceland in the middle January. I reminds me of my Twin Sis' high school exchange to Finland where she saw the sun once during the entire month of December!





Where is your happiest place?


~*~*~*~*~*~
Sustainable Family Finances
The story of a family creating an abundant and sustainable life.