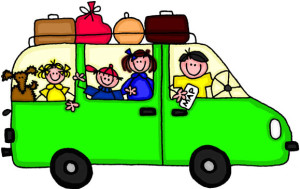 Nothing says "American Family" like a good old-fashioned road trip. While nowhere near the scale of the cross-country trip we took pre-kids, we've got a few excursions planned as we are anxious for summer. We'll be heading to my parents, which is a four hour trip and then meeting friends for some cabin camping next weekend.


The only glitch is that while we love our Doggy , it's hard to pack our whole family and our gear in our rig with a big black beast taking up the bulk of our cargo space. We toyed for quite some time after we first got him with the idea of trading in for a family mini-van. It seemed like the only option. We have many friends who love their mini-vans, and it seems like almost everyone opted in when kid number two arrived.


We did a fair amount of research. We considered buying a Mazda5, but it felt like it wouldn't really gain much room. There would barely be enough room for the kids' friends once they are bigger, and team sports are closer than I realize. We checked out Odysseys and Siennas, and it felt tempting.




My biggest hesitation about buying a mini-van is the low fuel economy. I just seems wrong to be going in the wrong direction when we are trying so much to reduce our carbon footprint.
We've decided to try out a large cargo carrier for our family trips. In theory it will give us plenty of room for all the necessities, and reduce our mileage by a small margin. We won't have to exchange our car just yet, which we've had for only two years. If we are all lucky, by the time we may really need a mini-van a hybrid version will be on the market.
On the cargo carrier research, we found out from friends that Sears actually purchases from Thule manufacturers. They cost about half the price, because you don't have to pay for the brand name. Of course, just after we bought ours, I found out about a local shop called ReRack. You can't win every time.
How do you handle the need for extra cargo room?
~*~*~*~*~*~
Sustainable Family Finances
The story of a family creating an abundant and sustainable life.