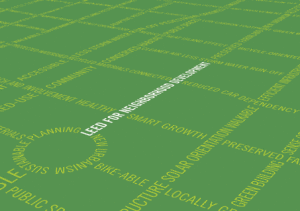 Envisioning a sustainable and abundant future is the first step to creating one.
As good as life already is in our neighborhood, I can't help but think about what the future might hold. So, when I was on a roll creating my " Home Wish List ," I started one for "My Sustainable Community."


I began by creating a list of our current neighborhood places. One of the things that attracted us to our neighborhood is its walkability, and short bus ride or bike commute to downtown. We have a very high Walk Score, and just last week I was able to run five errands on foot. We save money at the gas pump by only filling up about once a month, and we only own one vehicle .


After I had my neighborhood places in hand, I considered what types of places we'd like to be able to eat, shop and visit. I also added the types of community events that we'd like to enjoy to create more social capital, like an annual summer block party.


I've been excited to see that several of the things I wished for have already come true. A yoga studio just moved in around the corner, a kids' music school opened, a new consignment store, and bicycle shop. All the type places that help us live healthy and local. There's also a new community group that helps employ alter-abled adults raising food for a CSA.
Our neighborhood will never be LEED certified, but that's OK as long as we are growing in the right direction.
Do you try to live local? What do you envision for your own sustainable community?


~*~*~*~*~*~
Sustainable Family Finances
The story of a family creating an abundant and sustainable life.