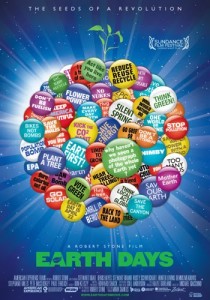 I was delighted to watch the new American Experience film, Earth Days. Earth Days shares the revolutionary story of how the environmental movement began, why we should celebrate, and how we can work together to solve today's global dilemmas. It's an instant classic that should be shared in classrooms for decades to come!


In case you missed it on your local PBS station you can watch it online, see you really don't need cable! The film is as entertaining and inspiring as it is educational.


As cliche as it may sound, Earth Day does matter. Hundreds or maybe thousands are inspired each year to commit to protecting the Earth. I was inspired to "grow up to be an environmentalist" when I wrote a research paper in junior high on the history of Earth Day. It wasn't necessarily easy to be a tree-hugger during the spotted owl recession in the Northwest. While disappointing, I appreciate the way the Earth Days film highlighted how the movement did loose ground during the polarizing Reagan years by pitting jobs against the environment and insisting that we need to reduce our standard of living to save energy. Europeans have clearly shown that it doesn't have to be that way, and are a decade ahead as a result.


Forty Earth Days later being "green" is no longer a fad, but a way of life. Our society is finally making decisions to make "Every Day Earth Day" and moving beyond the basics of recycling. Each day we vote with our wallets, and can make the choice to invest in future generations. If we invest wisely, we'll have something to celebrate in another 40 years.


At age 13 I also created an art poster with a vow:


I Pledge Allegiance to the Earth
To Cherish Every Living Thing
To Care for Earth and Sky and Air
With Peace and Freedom Everywhere


Today is our day: 4 Years. Go.


How will your family celebrate Earth Day?
Here's online petition to Congress to get the party started!
~*~*~*~*~*~
Sustainable Family Finances The story of a family creating an abundant and sustainable life.