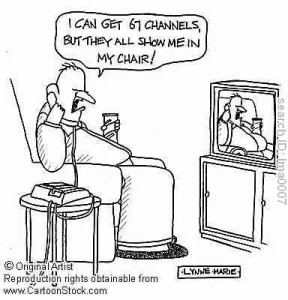 Want to save your family at least $500 a year? Cut your cable.


I have to admit that not having cable is pretty easy for me, considering I've never had it. With my back-to-the-land parents I was 7 when my family bought a used TV (ironically my parents do pay for satellite now!). Hubby grew up in a typical pop culture family, and his college football obsession has tempted him to buy cable before, but we've never succumbed.


It looks like more people are opting out of mindless channel surfing: 800,000 Americans cut their cable in the past 2 years! Living cable-free has perks, like with only five real channels we can see if something is on in about two minutes.


Obviously this trend has more to do with the advent of online TV programming and Netflix. We've been Netflix fans since our BigGuy was born, when we no longer had energy to walk to the video store. We haven't gotten into watching much online, but I've heard from Mama friends that it can be a great way to limit so-called screen time.


Speaking of screen time, this week is the "Screen Free Challenge". I was pretty blown away to learn that kids average 8 hours a day, that's way more that ours get in a week! On a typical week they get to 2-3 hours, and while not always easy to resist whining, I'd rather have a fit before watching TV than after. Our BigGuy used to watch a bit more and he had awful meltdowns.


There's a great essay of Barbara Kingsolver's about the process of weaning her daughters from TV. Plus, there are so many more fun things to do than watch TV. Read some cost effective TV alternatives.


Does your family pay for cable? Are you ready to go screen free?


~*~*~*~*~*~
Sustainable Family Finances
The story of a family creating an abundant and sustainable life.