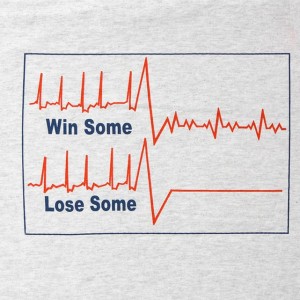 Some days don't go as planned and you just have to make it up as you go. The past few days have been like that for me. Instead of being healthy and happy for Girly's big 1st, three of the four of us were feeling green, and not the good kind.


Lose – I found out that the email sign-up was accidently misdirected! So, if waisted a moment of your life trying to sign up, I profusely apologize. Please give me another moment by signing up!


Win – Once I was feeling remotely better, I managed to get together donations to drop off at the Goodwill.


Lose – I realized that most of my cast-offs were generous freebie offerings from family members, and I need to do a better job of politely saying no.


Win – I made a few score finds at the Goodwill, including a pair of cute Girly jeans, two Berenstain Bear books for BigGuy, a National Park to-go coffee mug for Hubby, and a cute purple checkered blouse for myself.


Lose – I caved on emotional purchase, and couldn't help myself from buying the original Parent Trap 1 & 2; as a twin, it's one of my favorite childhood movies.


Win – Both Oregon ballot measures 66 & 67 that I shared in Green Taxes, passed overwhelming!


~*~*~*~*~*~
Sustainable Family Finances
The story of a family creating an abundant and sustainable life.