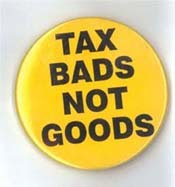 Today in Oregon, we have an important vote on whether to increase taxes for household incomes of over $250,000 (affecting only 3% of Oregonians) and eliminate income taxes on unemployment benefits (affecting a whooping 270,000 jobless Oregonians). The second ballot measure would raise the minimum business tax from a 1931 rate of $10 to a sliding scale of 1/10 of 1% of Oregon sales. You may ask, why raise taxes in a recession? Exactly, this would help fill a severe funding gap due to a drastic downturn in household incomes and generated income taxes. For obvious reasons, I am in favor of funding public schools and providing basic services to those in need.


Yet, contrary to my Republican Hubby's belief, I am not a thoughtless "tax and spend liberal." I'm not voting yes just because we aren't in this tax bracket. I agree that this vote is just a Band-Aid approach.


As a kid, I remember being happy that we didn't have a statewide sales tax; only having to calculate it when visiting family in California. But despite the convenience, I've come to realize that we desperately need statewide (and national) tax reform.
Eliminate Income Taxes – Why tax people's livelihoods?

Carbon Taxes – Let's tax our carbon impact

Sliding Scale – Even FDR agreed "Taxes shall be levied according to ability to pay."
A new green tax system would help reduce environmental impacts without hindering our economic productivity. I think the deeper impact would be psychological, as more families would really contemplate the power of their wallet on the planet.
How would you like to see our taxes shift?
Sustainable Family Finances
The story of a family creating an abundant and sustainable life.