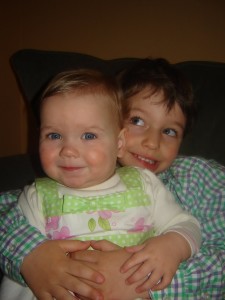 Today is my Girly's 1st Birthday! As any Mama, this day brings my mind back to place she was born. In our case, that means her bedroom. We planned a home birth, with medical support from a professional midwifery clinic.


We had a successful hospital birth with our BigGuy, and full health insurance. So, our decision wasn't necessarily a monetary one, but it did save us a whole lot of cash . All costs were fully covered by our health insurance, including the birth tub and birth kit bought online. I certainly don't advocate for considering a home birth based on finances alone, but it is a safe alternative to hospitalization. Here's an interesting article from Fit Pregnancy about Better births, lower costs.


I was inspired by the eye-opening documentary " The Business of Being Born ."
I had considered myself to be fairly well educated, but this film made me realize just how the obstetrics industry has been stripping mothers of our right to birth naturally . Statistically, only 1 in 100 American babies are born at home. Yet, 1 in 4 American babies now come by Cesarean surgery and the majority of mothers/babies are sedated by drugs at birth. I feel very lucky that my first hospital birth had minimal interventions and no drugs. Not everyone is so fortunate.


Before I go any further, I want to say that hospitals are amazing places for high risk pregnancies, where moms and babies need medical support . In an emergency, I would not have hesitated being transferred and fully appreciate modern medicine.


My top 10 reasons for having a home birth:


Safe – with prenatal care, contingency plans, and professional home birth equipment

Sustainable – minimal carbon footprint

Inexpensive – even with insurance, our first birth cost a few thousand dollars

Comfortable – the comforts of home, even if birth isn't

Family-friendly – our son announced that she was a girl; our closest family was there

Thoughtful – professional midwives prepare clients with extensive knowledge

Playful – music and water helps relax and energize between contractions

Empowering – you make healthy decisions to benefit you and your baby

Free High – you may not get drugs at home, but the birth "high" is incredible

Home healing – being at home to heal with postnatal visits for baby and mom
If you or someone you know is considering home birth, I'd like to offer up these resources:
My last two cents on the subject: birth is a natural process that has been going on since our beginning; having faith in this mysterious process has helped us endure and succeed. Plus, home is where the heart is, where families grow, and dreams are born.


~*~*~*~*~*~
Sustainable Family Finances
The story of a family creating an abundant and sustainable life.