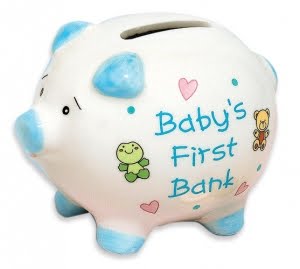 It's birthday season in our family, with Girly's 1st on Monday, and BigGuy's 4th this Sunday.


We have a generous family, and every year we receive birthday cards with loving notes and checks included. For now these pieces of paper seem inconsequential to our children, even as the cards bring them great joy (BigGuy has actually being playing with his spaceship card every night this week!)


Up until this year I've always found some thoughtful way to spend the money, usually new shoes or a family outing. But this year, in light of my newfound financial focus (and my gainful employment), I am ready to start saving their birthday money.


You might wonder how much would $100 actually grow in interest by the time our kiddos fly the coup? According to Suze Orman's Compound Interest Calculator, if I started with $100 and added $10 a month at 2% for 17 years, Girly would have over $2500!!


To us adults with mortgages and bills, this may seem like relative chump change. But imagine back to when you graduated from high school, and how exciting it would be get this type of cash. I also want to be clear that while I do plan on saving for our children's college (soon!), this account will not be earmarked for education per se. It will be up to them to decide how they want to spend it when they come of age, whether that ends up being travel or rental deposit; it will be their fund for start adulthood.


I'm going to take a nod from my money savvy sis and open a new SmartyPig account for them which will earn 2.01%. SmartyPig has a fun social function to it too, so you'll be able to see how full the pig bank grows as our kiddos grow. And while the Grandparents and Great-Grandparents aren't big Facebookers, they may get a kick out of seeing their money saved rather than squandered.


So, if you're lucky enough to not need gift money for the essentials, comment below to make the pledge that you'll open a savings account at your child's next birthday!


This birthday month has helped me focus on how we really want to celebrate, and I'll share more on that topic tomorrow.


*~*~*~*~*~
Sustainable Family Finances
The story of a family creating an abundant and sustainable life.