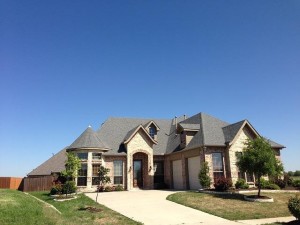 If you're selling your home, you're going to want to sell it for as much as possible (of course). While square footage, location and neighborhood can't be changed, there are many things you can change that will add to the value of your property. And even if you're not looking to sell right away, it can be worth it to spruce up your home for your own enjoyment, too. Here are 8 easy, affordable ways to increase the value of your home.
Take care of the front yard. The first thing a potential home buyer sees is the outside of your home. While you can't judge a book by its cover, first impressions do count when it comes to selling your home. Plant flowers, water the grass, trim the bushes and clean the driveway. All of these little things will greatly improve the outside appearance of your home.
…And the back yard. Most home buyers would prefer a nicely manicured back yard in addition to a landscaped front yard. Putting some money into your back yard, including adding in a deck with Futurewood composite decking, may set your house apart from your competitor's. Plus, you can enjoy the new back yard deck until the house sells.
Clean or replace the carpets. While home buyers know they can replace the carpets before they move in, they also know how much money this can cost them out of pocket. Don't let old, dirty carpet stand in the way of a sale. Deep clean it once a week when it's on the market or replace your carpet if needed.
Keep your house as clean as possible. Similar to the carpets, potential home buyers do know they can clean the house before they move in. But if you want people to fall head over heels in love with your home, you need to keep it as clean as possible. Scrub the bath tubs, wash the interior and exterior of the windows, make the kitchen appliances shine and more.
Upgrade the kitchen. It's common knowledge that you will get the greatest return for your money by upgrading your kitchen. If you can't spend tens of thousands of dollars on a full-on remodel, do smaller things such as changing the paint color, adding a backsplash and purchasing stainless steel appliances.
Make your home bright. Bright homes are more appealing to buyers than dim ones with few windows. Open up the curtains and blinds, make sure all the light bulbs are working and turned on and add in extra light where needed, perhaps with an eye-catching chandelier in the entry way.
Staging matters. You want your rooms to look open and spacious, not cramped and boxy. You may need to rearrange your furniture or invest in a few quality pieces you can take with you to your new house. Improving your home décor can actually make a difference in how quickly and how much you sell your house for.
Freshen up the paint. Nothing can be more inviting than a fresh coat of paint on all of your walls. Go with neutral colors throughout, perhaps adding in one or two accent walls, to appeal to a variety of buyers. You can repaint your home yourself or hire a professional, depending on your budget.
As you can see, there are many, many ways to increase the value of your home that don't have to cost a fortune. Pick one project at a time until your home is in excellent condition and ready to be sold.