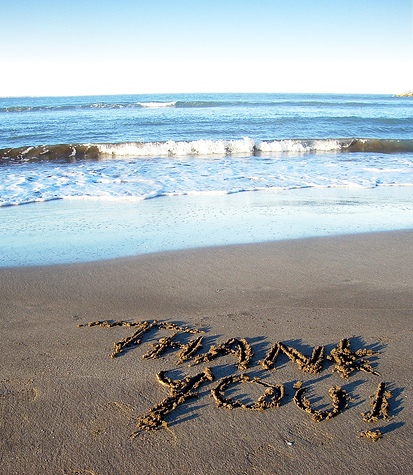 It's hard to express how joyfully abundant my life feels at this very moment. Yet, in very surreal ways. It has everything to do with accepting the unexpected and being grateful for the endless blessings in my life, especially my friends and family. I just love you all to the core, and would do anything for you (pure strangers and blog readers too ;-).

Hubby has stepped up the most, and continues to be the steadfast glue in our partnership. He's served the role of a "Single Dad" with all the household cooking, cleaning, shopping, laundry, chores, errands, kid drop offs/pick-ups, soccer coaching, caring for exuberant children, consoling a healing wife, not to mention excelling professionally. Thank you, Kevin, from the bottom of my heart.

Even though this has been an exceptionally turbulent year, I can't help but feel completely in awe of how my life is playing out. Most importantly, how utterly loved I feel by everyone in my life. There's nothing like a setback or three to attract the most generous and helpful of friends and family. Without the support from everyone around us, I don't think I could possibly feel this grateful for my life exactly as it is. In fact, I'm able to see all the positives that have come from the negatives. Now that's gratitude.
I'm not saying that it's been without stress or uncertainty, but somehow I still feel a deep trust in that my life is turning out exactly as I need it to unfold. My personal roots are deepening and shoots quickening, and my family is certainly becoming resilient. I feel so proud of who our kids are becoming, and Kevin and I continue to strengthen our partnership despite the chaotic nature that defines parenting/life. We're able to define our dreams and create our intentions. I feel like Brett Dennen's "little cosmic girl."
Lately I've felt physically and emotionally exhausted from the effort that's required to re-enter the "work world" after six weeks of being laid up. Yet, my recovery feels very positive, and despite intractable personality conflicts with my manager (or maybe because of them…), I'm experiencing a crystallization of answers to questions I've been reflecting upon for weeks…and believe me, I had a lot of time to think while I was on total bed rest. For the pure pain of it, I would never wish to repeat this past year, but I still believe faithfully that the universe gives you exactly what you need.

Not to give away all the details just yet, but this evening I had a series of mini-revelations about some pretty significant direction changes in my nearer and longer term. I have to say that it excites me. I can't help but feel like the Comeback Kid.
And on top of everything else going on my life, I'm going with my family (minus Hubby who is enjoying a much deserved break by spending the holiday with his beloved family back East) to do the final set up of our Camp Cabins. I get elated just thinking about the places. Even though I will be more than pleased to wrap up the final preparations and transactions, I'm grateful for the whole creative process of building/creating our dream beach cabins. In total, it's really been a fun time and we've loved working with the Olivia Beach team. Thank you to everyone who has played a role in making this nearly unimaginable dream come true, especially my Twin Sis and Aunt Carol. The cabins have turned out more beautiful than I ever could have imagined…more on this topic very soon…


Another catalyst for my recent personal insights and deep gratitude has been by participating in Deepak Chopra's 21 Day Meditation Challenge. I plan to share more once I've completed this friendly personal challenge, but suffice it to say that it has felt deeply significant. I'm grateful for being at the right place in my life to receive Deepak's wisdom and begin to transform my life through the power of abundance consciousness.




Lastly, by being open to the many changes and accepting them without resistance or fear, I'm able to ride the waves of flow and continually redirect my own destiny. Gratitude is like the guiding force.

Happy Thanksgiving…may you feel the full grace and joy of this day.
Darcy

~*~*~*~*~*~
Sustainable Family Finances
The story of a family creating an abundant and sustainable life.