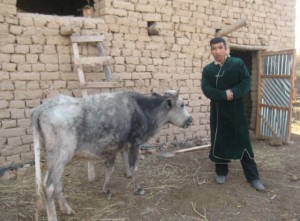 I've written several times about Kiva's micro-finance lending, and how it gives money a whole new meaning for hard working people around the globe. With my recent inheritance, I've decided that I can afford to do more.


So, on new year's eve I found 10 entrepreneurs, farmers and hopeful home-buyers who were gracefully requesting loans to help raise their family fortunes and lent them each $100, for a total of $1,000 in loans (plus another $100 as a donation to Kiva). Now our money is helping people in Kenya, Sierra Leone, Ecuador, Tajikistan, Palestine, and previously in El Salvador, Senegal, Peru, and The Democratic Republic of the Congo.


It feels amazing to be able to lend a hand to help people reach their family financial goals around the world. Even if I never personally see the impact, I have no doubt that my generosity is making a difference.


I also contacted Kiva and asked about whether they can find more partners for environmental projects (tree planting, renewable energy…). They replied the same day and have been working on developing more loan partners with green goals, so I look forward to supporting those in the future.


Oh, and BTW, I just had my second blogoversary (1/10/10)! It personally feels like I've been writing for much longer, but in other ways, it feels like I'm just beginning. In my first year it felt like I really was able to voice my goals and achieve many of them. Our dream of saving to travel to Denmark was worth all the effort, and I know this wouldn't have been possible without this blog. Yet, this second year has been more personally challenging to stay motivated, but I really did miss writing during the fall and it feels good to get back to "tip tapping" as Hubby likes to call it 😉


On a related note, while I initially intended to earn some extra money from this blog, it honestly hasn't happened yet. I've earned less than $200 in two years, which doesn't even cover my wi-fi bill. I'm not planning to spend a ton of time trying to get advertisers, but I have decided that anything I earn will go toward Kiva loans.


Lastly, a word of thanks to my friends and readers. I know many of you don't comment online, but I've appreciated your personal encouragement throughout my blog writing. It means a lot to me.


Have you started lending with Kiva?
Use this link to lend your first $25 for free!


~*~*~*~*~*~
Sustainable Family Finances
The story of a family creating an abundant and sustainable life.
You can find other loans at: yetiloans.co.uk