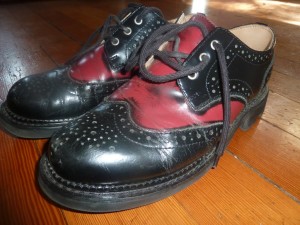 Hubby just resoled his 10 year old Fluevogs. It's hard to believe, but he still gets lots of compliments on them…probably for the style, not the scuffs. But they are still super comfy, and he wears them every day.


Fluevogs aren't cheap, today they range around $200 (I think his were a spendy $100 when he bought them). But he bought them with the intention of resoling and its worked out for him, which he's did once already after five years of use.


Shoe resoling ran him $40 at Derek's Shoe Repair, a local place in downtown Portland. But I also found NuShoe online shoe repair that looks like they do a fantastic job.


A few years ago I wanted to resole a pair of shoes, but it turned out they were just too cheap. The way I see it now is that you're either going to pay up front or pay later. But if you buy quality shoes, you'll likely be more comfortable and feel more stylish. Plus, you'll be responsible for one less pair of shoes in a landfill.


If you're really crafty, I found a great site for How to Resole Shoes and another about the green benefits of shoes resoling.


I only wish that Danskos could be resoled…then I'd be in business too, for now I'm just glad that I have a few pairs that have lasted me almost ten years too…


Does your family buy shoes that can be repaired?


~*~*~*~*~*~
Sustainable Family Finances
The story of a family creating an abundant and sustainable life.