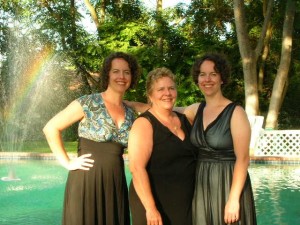 I'm excited to be heading for a mini-Mama's day vacation…dropping kids off at "Grandma and Papas" before Hubby and I head down for a few cherished days as adults…we lived in Ashland for two years prior to kids, so I'm sure it will feel surreal to visit…then we'll have time as a family for Mama's day itself.


Last year I took a lot of time to write several of my favorite posts on "Green Mamas." I've gained lots of new readers since then, so in an effort to recycle:


Ode to Green Mamas
Celebrity Green Mamas
Green Mompreneurs – I would now add JBF organizers to this list!
Global Green Mamas
Great and Grand Mamas


Lastly, to our beloved Mama: Thank you for raising us with green family values and being generous to the core. We love you more than you can know.


(photo of Twin Sis on the left)


Happy Mama's Day!


~*~*~*~*~*~
Sustainable Family Finances
The story of a family creating an abundant and sustainable life.