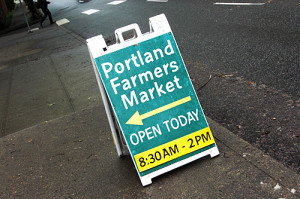 Despite the fact that I froze this morning when daring to wear a skirt, I am determined to believe that spring is finally here. For me that means the return of my ritual visits to the Portland Farmer's Markets!


I mark dates on my calendar, and try to make at least one a week. This year I plan on buying much more produce, since we no longer have organic home delivery.


Not surprisingly, Portland made the Apartment Therapy's Top 10 List of Farmer's Market . But they don't share that the PSU Saturday market is really one mostly for visitors, and locals visit the others all across the city on different days of the week. Here are my favorites:
Here are some tips for saving money at Farmer's Markets:
Buy in season – pretty simple, but you'll pay more if you get impatient
Bring a list, but be flexible – it's obviously harder to predict availability and sales, so flexibility is key
Buy in bulk – freezing fresh produce is a great way to save and eat healthy out of season. But there's a caveat…
Don't buy more than you have time to eat/store – nothing worse than wasting food!
Shop at the end of the day – no vendor wants to schlep home wares, so deals are to be made…and don't be afraid to negotiate, but remember market etiquette
While it won't likely reduce your grocery bill, I think bringing kids to farmer's markets encourages lifelong healthy eating habits. We're lucky that our kids go to the market almost every week with their childcare classes. The kids pick out veggies that the cook uses on healthy pizzas, and as you would guess the kids come up with some really creative combos. Portland Farmer's Markets even offers cooking lessons for kids, which reminds me of my niece, Kid Foodie 🙂


Do you frequent farmer's markets with your family?


~*~*~*~*~*~
Sustainable Family Finances
The story of a family creating an abundant and sustainable life.