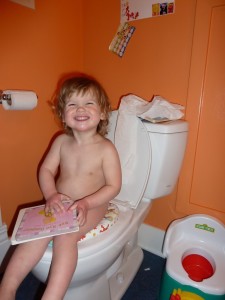 Our Girly is growing up fast, and I'm proud to report that this weekend every poop went in the potty! She's had three successful weekends of consistent potty use…so I'm finally ready to share without feeling doomed to jinx our good fortune. Now we'll just need to practice some patience until she transitions to a classroom with a potty (although her teachers are willing to try potty visits).


After two years of washing two loads of poopy diapers every week , I am more than ready for her ditch her diapers!


But as you can see by her proud smile, we can't claim too much credit for her potty readiness…it really is her choice. We also give my parents full credit for potty training Big Guy, we called it potty boot camp: he went to visit for five days and he never went back to diapers!


I do have a few pointers thought for parents who haven't been through potty training yet:
Splurge and buy a true potty and a toilet seat ring – some kids highly prefer one over the other, and you just don't know until they try them out. Plus, if you have a second bathroom, buy a second set – chasing after a potty is the last thing you want to do with a ready/willing potty user!
Stickers aren't exactly eco-friendly – I think they sure beat the options of buying/washing diapers. We sure don't scrimp on stickers and always put one on the potty chart and one on their hand to remind them of going potty.

Potty books are a big must, and we have a few in each bathroom. I bought a few new, but I've found several more at the Goodwill for $.50! There are lots used online too. These are my favorite potty books:

Buy second hand – like everything, potty training is a phase that won't last (we all hope!), so splurge on books and stickers instead of a new seat if you can avoid it.

T

here are a few eco-friendly potty options now too: who knew you could buy a Bamboo Potty Seat? It's also nice to see that the Eco-friendly 3-in-1 Potty and "Natural" potty are quite a bit cheaper than the conventional plastic potties.
We do use disposable diapers on between diaper washes and on trips, and I prayed the last time I went to Costco that it would be the last pack I would ever buy!!


Lastly, while not a prerequisite to potty training, both our kids are still enamored by our new water friendly Toto toilet. The high efficiency flush is certainly more impressive and the slow self-closing toilet lid seems to work like magic!


What are your potty tips?


~*~*~*~*~*~
Sustainable Family Finances
The story of a family creating an abundant and sustainable life.