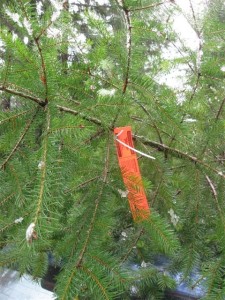 As a teenager I started to question cutting down a tree for decoration, but I loved the tradition too much to consider boycotting it. The holidays we spent in California with family around a plastic tree didn't feel quite right. There's nothing like the smell of a fresh cut tree.


I practically grew up in the woods, so driving a little further into the mountains to cut one down was a simple family adventure. Now our family continues the tradition of buying a $5 permit from the National Forest Service/Bureau of Land Management to cut a tree for the festive season. It's beats the price of any lot in the city or tree farm in the suburbs!


I've been happy to read about how even The Nature Conservancy is advocating for cutting down trees to increase carbon storage and reduce your carbon footprint, at least compared to a PVC tree.


We also do our best to demonstrate good forest practices, by selecting a tree strategically so that others will be able grow bigger without competition. This year's tree was growing on a steep embankment and already had a crooked stump from trying to grow straight on a curved slope. I consider our tradition to be almost carbon neutral, or at least not entirely harmful. Plus, it allows us to live temporarily with nature during a time when we're not out camping or even hiking much, and that's precious.


And, yes, our first year of getting what I consider to be a "real" Christmas tree from the woods, Hubby was a bit taken aback because they don't look anything like a farmed tree. Personally, I prefer the look of them, they have an airy feel and you can see ornaments on the other side of the tree. Plus, you know that herbicides weren't used to grow a tree from the forest.


If you really want a living tree, here in Portland there's such a service that delivers a potted tree, picks it up after the holidays to be planted at a regional restoration site. It'll cost you $100 ($70 without delivery), but at least you'll know that your tradition will have a positive environmental impact, not a negative or neutral one.


One other tradition to consider is giving the gift of a tree during the holidays, especially in honor of family members who have passed away. One of my favorite organization, Friends of Trees organizes an annual planting to honor gift recipients. This is another to good way to offset any impact from having a fresh cut tree as adornment.


Do you cut down a Christmas tree?
How much does it cost your family?


~*~*~*~*~*~
Sustainable Family Finances
The story of a family creating an abundant and sustainable life.