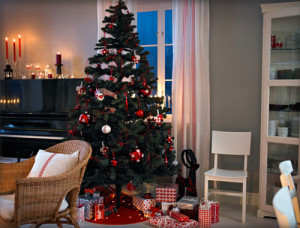 My first IKEA experience was in the suburbs of Copenhagen. It was intriguing as a foreigner, and I was fascinated when I learned that IKEA culture was being exported: t he awe-inspiring parking lot, the maze-like wonder of home goods, and the cheap civilized cafeteria.


As a Scandinavian lover, I can't help but adore IKEA. But I'm also always a skeptical shopper, as everything is so tempting and cheap at IKEA. It's all too easy to suddenly feel like you "need" a whole lot more than your shopping list. IKEA shows how simple Scandinavians live, and how you don't have to be a millionaire to live the good life. Likewise, IKEA does have some innovative sustainability practices.


IKEA opened in Portland right around the time we bought our home. Since we were moving from a much smaller house with minimal furniture and not much cash on hand, our best option was to turn to IKEA decor. In our first trip, we bought a dining table, four chairs, tv armorer, coffee table, kids' bed, two bar stool chairs, plus miscellaneous stuff! Our house was literally empty for a few months before we finally furnished it (sorry to our friends who sat on the floor to visit!) We obviously would have preferred to have bought higher end more eco-friendly furniture, but we also knew that young kids would be hard on it. The fork marks in dining table prove the point, that we just weren't ready to buy an heirloom quality table…although we hold hope for the Joinery dream.


Aside from cheap kitchen gadgets, IKEA has lots of great kids' kitchen gadgets. Honestly, I was a bit frustrating when I bought a bunch mini-whisks and spatulas at a local toy store for a pretty penny only to find them later at IKEA. Really, a baby whisk shouldn't cost $5! But my favorite IKEA thing is the kids' organization stuff! They are so colorful and creative and they really help tame the clutter beast. Then your challenge is to resist all the cheap toys…


Are you a fan of IKEA?


~*~*~*~*~*~
Sustainable Family Finances
The story of a family creating an abundant and sustainable life.