When we moved into our "new" house two years ago, we wanted our first Christmas to be special. But we couldn't afford to spend a fortune…so-called eco-friendly play kitchens can cost over $300! So, my Twin Sis and I teamed up to create a built-in kids' kitchen in the end of one counter. She took the lead and did lots of research on creating home made kitchens, and did a fantastic job.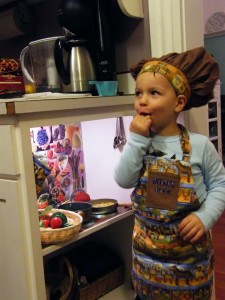 She made a colorful laminated back-splash from old Body & Soul magazines, then she made a cook-top from recycled CDs and brads. She even included knobs and a clock, plus hooks and magnets, not to mention the touch light that helps to put a light on the subject and is oh so fun. Then she went above and beyond by making homemade felted vegetables. The entire kitchen cost practically nothing, and was made of mostly reused materials.


"Auntie" also bought him a pot set, and baskets for the all the veggies. My mom also sewed an apron, mitts and a chef's hat. Hubby's mom, Gram, bought a fun Melissa & Doug Pizza Party set . I bought lots of utensils, and in retrospect I would have bought more that could actually be used to cook.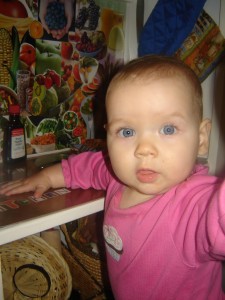 Alas, as it turns out, the kitchen didn't hold Big Guy's attention much (he was almost 3) and initially he only really played with it when other kids came over. It did inspire him to cook for real though, and he loves using the bigger utensils. But Girly has grown up with it and loves playing in her little kitchen (this pick was taken at 10 months last fall…hard to believe she has so many curls now!).


Lastly, I know not everyone has a spare open cabinet, but after seeing our kitchen a friend made one from a standard kitchen rack. The best part is that the rack is still useful and costs about as much as some play kitchens!


Here are some resources if you're interested in designing a kids' kitchen:
Eco-friendly Kitchen Accessories: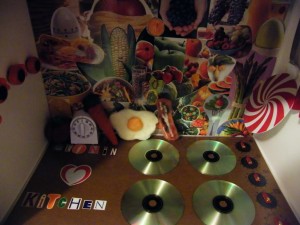 We've also shared a close-up for inspiration.
Do you have a homemade play kitchen?


~*~*~*~*~*~
Sustainable Family Finances
The story of a family creating an abundant and sustainable life.