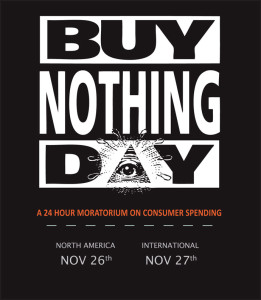 With all the hype of Black Friday, we'll be honoring Buy Nothing Day this Friday.


Yes, we'll miss some ridiculous sales, but I guarantee you we'll save money…kind of like the age old financial savvy of spending less than you earn. 😉


Here's a 30 second ad by Adbuster to remind of us how glutinous we are and why Mama Earth needs us to limit our consumer craze. But you won't see this ad on any of the major networks between shop-til-you-drop commercials, because it's been rejected by ABC, MTV, etc! I can understand wanting to monitor content to a degree, but this is plain and simple censorship.





Have you ever honored Buy Nothing Day?
What will do instead of shop with your family?


~*~*~*~*~*~
Sustainable Family Finances
The story of a family creating an abundant and sustainable life.