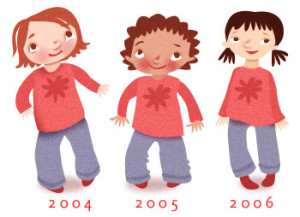 Lately I've started passing on our plethora of baby and kid stuff. A close family friend is due with a baby girl, and we had fun going through Girly's clothes together. I also gave her our infant car seat, baby bath tub, bouncy chair and baby moses basket. At that point we were overwhelmed by all the stuff in the corner basement room, so we opted to pace ourselves and go through more another time. But it did remind me of the warm sentimental feeling I also got when I gave/got hand-me-downs from family friends as a kid.


I also offered by breast pump to a co-worker of mine who is planning to pump at work, and she's also very grateful for my generosity.


At some point soon I'm going to try to muster the energy to do some consigning, which apparently has been very popular in Portland. I was only disappointed to see that I missed a big consignment sale.


Do you pass it on or sell your kid stuff?


~*~*~*~*~*~
Sustainable Family Finances
The story of a family creating an abundant and sustainable life.