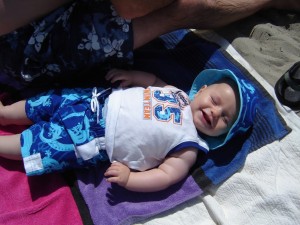 I know that I'm a biased water lover, but I think that swimming is a skill every child should learn, and the earlier the better. So we sign up for swim class on Saturday mornings from fall through spring.


It's a relative bargain at our local community center for $40.50 per child for 9 classes. We can walk there, and we often sign up with friends to make it a play date too.


My only real tip for signing up for class is to make sure that the class time works for your current routine. I once made the mistake of signing up as our nap time was shifting, and we missed several classes. I've heard from several friends about how challenging summer classes can be when they are scheduled for every afternoon. Swimming is exhausting, and it could be too much unless they are used it already. It's probably an age/experience level thing though, because I vividly remember wanting to swim every single day of the summer as a kid.


Yet, secret extra bonus for me is that Hubby usually uses this time to clean, and the kiddos are always tired enough for a nice nap when we return. So in reality I get multiple benefits from a simple swim class. I certainly think it's worth the "investment."


What classes do you do with your family?


~*~*~*~*~*~
Sustainable Family Finances
The story of a family creating an abundant and sustainable life.