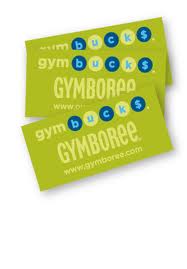 When our Big Guy was born my extended family was ecstatic to have a handsome little guy to adorn. Since we didn't know the gender of our kiddos in advance, there was an extra level of excitement to go out and shop when he arrived. So, I was grateful to receive some adorable outfits along with some new Mama currency: Gymbucks.


The way that Gymbucks work is that for every $50 you spend at Gymboree, you get a $25 matching coupon to spend during their sale period over a set period of time a few weeks later. So the basic deal is that for every $75 you spend, you get $100 in merchandise.


Even though I find it to be a pretty good deal, Hubby still thinks that it's a racket and a way to sucker parents into buying overpriced clothes. I half agree.


I'm pretty strategic about my Gym purchases, and I never buy full priced. When I used to shop in stores, I always asked the sale clerks to ring up the subtotal so that I could see how much I was about to spend. Now I shop almost always online, because it is easily to do when kiddos are sleeping and the shopping basket is easy to reference for budget purposes. You also have a bigger selection than a single store.


Like most kids clothing stores, Gymboree lures families into buying ensembles that only match with one time designs. I've learned the hard way never to buy a super-cute sale item that may be hard to match with anything later.


So this gets me to the sustainability aspect. I am well aware that purchasing new non-organic clothing has a high environmental impact, and yet I still can't seem to help myself. It is truly a weak spot of mine…I do want my family to be as comfortable and adorable as possible. More on this topic next week…


Have you used Gymbucks?
Do you think they are a deal?


~*~*~*~*~*~
Sustainable Family Finances
The story of a family creating an abundant and sustainable life.