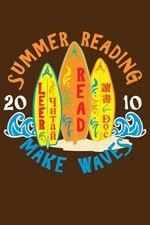 As I written about before, our local library is one of our favorite places. Participating in the summer reading program gives us another reason to plan a visit, and our Big Guy was thrilled to "earn" a pass to the Oregon Zoo for his first level prize.


Getting to the library can be an challenge for a family with limited means though, and the Children's Book Bank is brings books to children in need . Plus, there are some classic books you just want to read again and again, and boy do kids love repeats 😉



I love going to the Goodwill for kids books, and when our Big Guy was first born I started stopping there on our neighborhood walks. We've found some family favorites, like Apples to Oregon for $1. We also love going to our county library's secondhand book store, Tidal Wave, which is conveniently in walking distance too.
I'll save some favorites, like my Mama saved Richard Scarry's Best Picture Dictionary Ever for thirty years to pass on. But I'm definitely planning to donate many of our growing personal library to the book bank as our kids outgrown them. For now, we are enjoying some leisurely summer reading.
What's your favorite summer kids books?
~*~*~*~*~*~
Sustainable Family Finances
The story of a family creating an abundant and sustainable life.