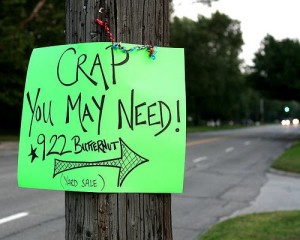 Today's title is a bit in jest, because I don't consider myself to be all that savvy when it comes to yard sales. But when my neighbors decided to host a group sale, I couldn't help but join in.


Technically, I ended up in the hole. I bought more than I sold. I had tons of kids clothes, 2 bags of books, some chair cushions and a futon cover. Virtually no families with young kids showed up, so I only sold a few jammies and onesies. The books sold well, although I wasn't sure how to price them and I'm pretty sure that I should have headed to Powell's for a trade before offering them up for $1. In total, I only earned $29. Yet, I felt like I came out ahead…


My neighbor had the perfect antique chase and a sweet little wooden bench seat! Both need to reupholstering, but they are exactly what I had in mind on my home wish list. Plus, I scored 5 boxes of jam and canning jars, which I was planning to purchase the very next day. I also picked up a couple of games and dress-up clothes for the kids: all for $65.


Here's a few tips:
Prep the week before and plan to set up early – expect early birds

My neighbor sold donuts in the morning and sodas in the afternoon for $1

Be willing to negotiate on price, but don't sell something for less than donation value

Group pricing 2 for $5 etc, to encourage bulk sales

Have cash and change handy

Crank up some music and have some fun!
Getting buyers to you sale is critical. They advertised in the newspaper, on Craig's list, and signs. With an informal poll, generally the older generation found out from the paper, while the younger crowd hit craigslist or simply scouted by signs en route. In hind sight, I should have been more proactive about advertising via Facebook and local mom networks to help get the word out.


Lastly, despite the bargain scores, yard sales always remind me why we try to live uncluttered and how too much stuff harms the planet and robs you in the process.


What are your tips for a successful sale?
Do you find sales worth your time and energy?


~*~*~*~*~*~
Sustainable Family Finances
The story of a family creating an abundant and sustainable life.