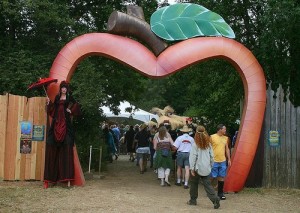 The Oregon Country Fair is better experienced felt than described or explained.


Every year since 1969, a tribe of creative dreamers have transformed the banks of the Long Tom River outside Eugene, Oregon into a hippie haven that cannot be rivaled. The Oregon Country Fair is a counter-culture utopia that models how "alternative" living can create sustainable communities.


If you've ever been intrigued the 60s or wish you could relive them, the Oregon Country Fair could be for you. If you could think of nothing better to do than create magical moments under an forest canopy, the Oregon Country Fair is your kind of place. Plus there are foods from around the world, solely handcrafted goods, 18 entertainment stages, drum tower, and a marching-band circus – check the official Peach Pit. Trekking to the Oregon Country Fair may be too far for your carbon footprint, but I would encourage you to dream up new ways of celebrating sustainability and creating your own new brand of "counter-culture."


As a hippie kid, my Twin Sis and I were 10 days old for our first fair experience, and we started on Staff as the first TEEN crew. I was sometimes embarrassed to have hippie parents, aren't all parents mortifying at 13?!, but I'm now proud of my Green Mama and Green Dads . My father has been on the recycling crew for decades now, and it's one of the only annual events with 45,000 people that recycles and composts virtually everything, plus they reduce with real silverware now!


I've taken an extended "maternity leave" since our Big Guy was born, so this will be my first full weekend camping at the fair. Last year Big Guy was lucky enough to spend the whole weekend with his Auntie and Grandma! I'm really looking forward to experiencing the fair through the eyes of my children and connecting with a wholey unique tribe of sustainable dreamers.


If you want to learn more about the history and adventures of the Fair Family, check out cover story articles for the Eugene Weekly.


Have you experienced the Oregon Country Fair?


~*~*~*~*~*~
Sustainable Family Finances
The story of a family creating an abundant and sustainable life.