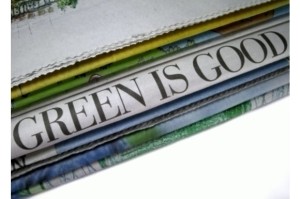 My Hubby happens to be a news hound, and the Sunday paper is sacred in our household. He religiously culls the ads and shares the comics with our BigGuy. Sadly, anyones who reads the news knows that the atrocious gulf oil spew and need for climate legislation top the headlines.

We are like many "sustainable" families, and opt to only get the Sunday news in paper form. The rest of the news we read online.


Here are my two favorite places to get green news:
Sightline Daily

– I've received this daily digest in my inbox for almost a decade, and it's a great quick way to keep up on environmental news from a regional perspective.

Grist

– They provide a nationally focused environmental news digest, but with a satirical twist. All the news titles have clever/humorous (or really not so funny) titles.
While technically not news, I'm also a fan of several green news blog, like Green from the New York Times and the Huffington Post.
I find that the fact of the news is most interesting when captured in a cultural context.
Here's my short personal commentary on recent news: My only hope is that in calamity there can be found opportunity and political will to finally pass national climate legislation. Fiscally conservative skeptics claim that climate policy will have steep economic costs.
Yet, the EPA estimates that the climate bill will cost families than than a postage stamp
.
The real question is whether we want to pay the tab today or pass the bill to the next generation at the expense of species, cultures and global stability.
How do you prefer your news?
How green do you like it?


~*~*~*~*~*~
Sustainable Family Finances
The story of a family creating an abundant and sustainable life.