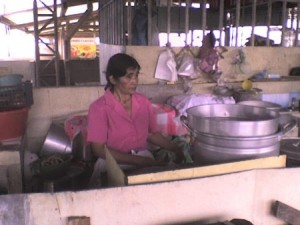 I don't know about you, but I always find it a challenge to buy gifts for adults. T here are lots of great green gifts out there for grads and dads, but honestly I'm not sure if they really need any of them. What do you give someone who has everything?


This year I decided to give my Dad and Father each a micro-loan through Kiva. You can give true gift certificates, but I wanted to be thoughtful about it so I chose.


For my Father, I found a woman in El Salvador, Ana Vilma Gomez, who needs funds to support her kitchen that serves traditional meals. I was actually looking for someone with a bee-keeper business since my Grandfather kept bees, but she came up when I searched for honey and seemed like the right recipient for my Father since he traveled through Central America before I was born.


For my Dad I found a mechanic from Bolivia named Luis who is building his business with his wife. I liked is hard-working profile and how he poised to prosper if he can secure a relatively small loan.


I wrote about Kiva and posted a video that you can check out too.


Have you given a loan/gift of Kiva?
Use this link to lend your first $25 for free!


~*~*~*~*~*~
Sustainable Family Finances
The story of a family creating an abundant and sustainable life.